A Christmas Tree Reflection
Sr. Judith Kay Campbell, OP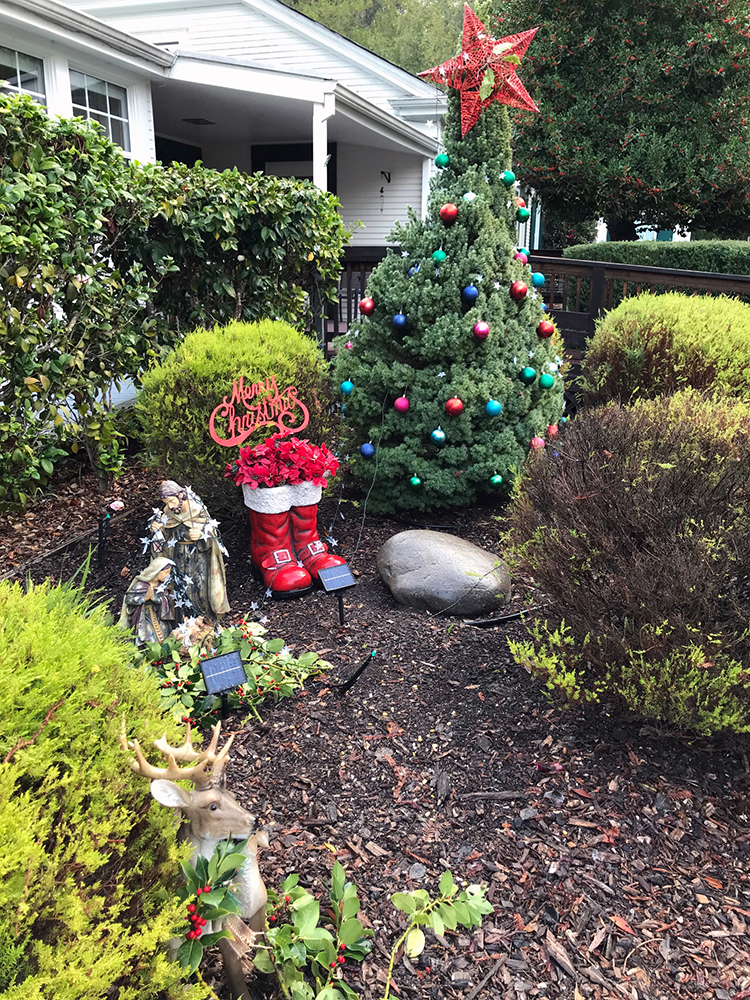 Beatriz Valencia, a member of the Lourdes nursing team, recently read e.e. cummings' poem "[little tree]." She was deeply touched, and her heart and soul were filled with an enthusiastic desire to put life into the Cyprus cone-shaped tree given to Sr. Bernadette Wombacher when she was Administrator and Moderator of Lourdes Convent years ago. Sr. Bernadette had planted the tree in an open space area of the entrance to Lourdes.
Beatriz honored her strong desire to wrap the Christmas spirit around the cone-shaped Cyprus tree. She pondered each verse of the poem and was inspired about how to give expression to the verse. She purchased many colorful ornaments of various sizes. The ornaments glitter in the daytime. She placed the ornaments on the tips of the tightly grown branches, separating them, without losing the cone-shape of the tree, giving it an airy look. It was as if it had released its sense of tightness.
Beatriz placed a very large red star on top of the tree adorned with a green bow. The little Christmas tree wears it proudly.
Beatriz added four large Merry Christmas signs and put one on each of the four heather bushes—two red and two green. She further decorated by adding a "Santa Stops Here" sign as well as a reindeer and creche. She added colored stars, and the maintenance staff wrapped the solar lights around the tree, setting the tree all ablaze with joyous sparkle. The entire scene is set in a triangular shape and radiates Christmas spirit to all, drawing passersby into the parking lot to enjoy and rejoice.
Here is the poem of inspiration for your enjoyment:
[little tree]
e.e cummings– 1894-1962
little tree
little silent Christmas tree
you are so little
you are more like a flower
who found you in the green forest
and were you very sorry to come away?
see            i will comfort you
because you smell so sweetly
i will kiss your cool bark
and hug you safe and tight
just as your mother would,
only don't be afraid
look           the spangles
that sleep all the year in a dark box
dreaming of being taken out and allowed to shine,
the balls the chains red and gold the fluffy threads,
put up your little arms
and i'll give them all to you to hold.
every finger shall have its ring
and there won't be a single place dark or unhappy
then when you're quite dressed
you'll stand in the window for everyone to see
and how they'll stare!
oh but you'll be very proud
and my little sister and i will take hands
and looking up at our beautiful tree
we'll dance and sing
"Noel Noel"
Thank you to Sr. Diane Smith for the photos of the decorations.