Dominican Heritage
The Order's Roots
Prouilhe, a village in the south of France, is often called "the cradle of the Dominican Order" because it was the site of the very first Dominican house, a convent founded in 1206. Dominic and his followers were given a neglected, crumbling church that became a refuge for women who had been converted to Catholicism, and as a base of operations for these first preachers.
Who was Dominic and what led him to found a new order of men and women? What did he stand for that still resonates with us today, 800 years later?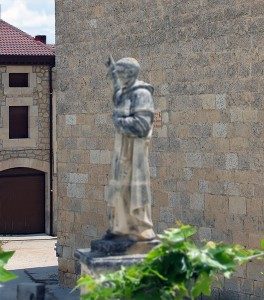 Born in Caleruega, Spain in 1170, Dominic's parents were both from well-to-do and well-connected families. His father, Don Felix de Guzman, was royal warden of the village; his mother, a deeply religious woman, is recognized by the Church as Blessed Jane of Aza. His family decided his career path: the Church. Dominic proved to be an avid and dedicated student, and continued his studies at the university. Well-provided for by his family, he owned and treasured a collection of religious books inscribed on parchment. But when there was a famine in Palencia, he sold the whole lot and gave the money to poor people. "I could not bear to prize dead skins," he said, "when living skins were starving and in need."
His love of study and acts of charity came to the attention of the local Bishop Martin of Osma who invited Dominic to join a cloistered group to pray, study and live a simple, common life according to the Rule of St. Augustine.
Dominic's friend Diego succeeded Martin as bishop. Dominic traveled with the bishop on more than one diplomatic mission on behalf of the King, from Spain through France to northern Germany and back. On these trips in 1203 and 1205, Dominic was disturbed by what he saw: tribal groups pillaging small villages, land stolen from those without armies to protect themselves, crushing poverty, a laity disillusioned by the scandalous lifestyle of the clergy, and a lack of strong preaching.
Traveling through Toulouse, France, Dominic and his party spent the night at an inn. The host believed a heresy common to the time and place, and Dominic spent the night in deep discussion with him. By morning he had convinced the man of his error. Perhaps Dominic had an inkling then of his vocation call to an active life of teaching and conversion.
From the roots of Prouilhe a new kind of Order evolved. Dominic sought to combine the education to be found in the older monastic orders with a more flexible structure. Dominicans would be preachers, trained to use the languages the people spoke. Rather than earning their living on vast farms, as the monasteries had done, the new itinerant friars would survive by begging.
The Order of Preachers was approved in December 1216 by Pope Honorius III. Dominic died in 1221 and was named a saint of the Church in 1234. Today the Order of Preachers has members worldwide, engaged in a variety of ministries. We are Sisters, Friars, Nuns, and Lay Dominicans who, in the words of Saint Francis of Assissi, "Preach always; when necessary use words."
Sources: Lives of Saints, by Father Joseph Vann, The Catholic Encyclopedia,
Saint Dominic by Simon Tugwell, and Stories Seldom Heard by Sister Patricia Bruno, OP